Proof of Stake
Proof-of-Stake is a blockchain consensus mechanism that will be replacing Proof-of-Work in QRL. Instead of computers competing for who would win the block by computing a piece of work, a validator is selected at random by the weight of their holdings.
QRL currently has a post-quantum secure Proof-of-Stake devnet and code, codenamed project Zond which lays out some of the framework that may be used for our upcoming proof-of-stake system. With the aim to provide the most reliable, efficient, and flexible, post-quantum secure proof-of-stake protocol, additional competing areas of research and development are being pursued between STARKs (with hash-based cryptography), and lattice-based cryptographic solutions.
Proof of Stake NEWS AND UPDATES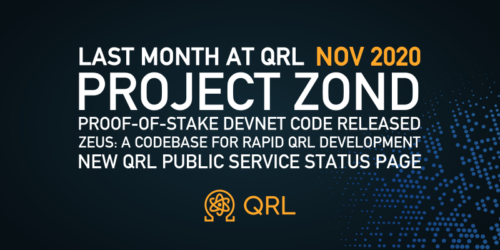 Project Zond: QRL's Proof-of-Stake code released. Zeus: A codebase for rapid QRL development. New QRL public service status page, two new videos, and more.
read more
Contact Us
Join our mailing list, contact the team or join our vibrant and friendly community of users, developers and enthusiasts on Discord or one of our other social channels